Description
The Coolest Camp stove you've ever seen.The Timber Grill Elite keeps you warm and fed just like and old cook stove. The Barbecue includes a cooktop, oven and removable plate for open flame cooking. With the combination of three products into one, the Timber Grill is a space saver. This lightweight device(75 lbs) has a stowaway for the stove pipe, making it compact and easy to move. Cooking a complete meal and gathering around a smoke free fire, makes the Timber Grill part of the camp. Easy to use, the Timber Grill is a campfire in a box, all you do is feed it fuel. Temperature adjustment comes from the damper dial on the front of the stove, giving you complete control of both oven and cook-top temperatures.
Includes: Stainless Stove Pipe and Rain Cap, Folding legs and Wheel Kit.
-Can accept Pellet hopper assembly to transform into the Gravity Grill.
-Can fit two 8 x 4 x 10" pieces of cord wood.
Featured Components
C
ooktop – With 252 Sq. inches of cooking area, the cooktop is really the funnest part of the gravity grill. Who doesn't like breakfast off the griddle in the great outdoors!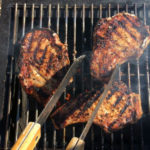 Open Flame Cooking – The Cooktop comes with a removable plate that can be replaced by one of the grills from the oven. Love
cooking over a campfire? This is it!
Oven – Includes two 13"x11" grills for a total cooking area of 286 Sq. inches. With Oven temperatures ranging from 300 to 550 degrees F., cooking possibilities are truly limitless.
Firebox – Keeps you warm and cooks your food all at the same time.
Damper Dial – Controls the temperature of the heater by adjusting the amount airflow. Reach the highest temperatures with the damper dial fully closed.
Specifications:
Model: TGE1.2L Unit Dimensions: 39.5″ W x 13″ D x 75″ T
Unit Weight: 75 lbs
Cooktop surface temps: Left side cooking surface temp range 450-650, Right side cooking surface temp range 300-550.
Oven Temp Range: 300-500
Oven grills size: two @ 13" x 11" = 286 sq in
Top cook surface dimension: 21" x 12" = 252 sq in
Total sq in of cooking surface: 538 sq in
Minimum clearance to combustibles: 3 ft