Description
Built To Order: 3 Week Lead Time
The Gravity Grill is a Dynamic cooking system combining the heating element of a stove and the cooking element of a cooktop and an oven. This portable grill can do it all: heating, cooking, baking, grilling, tailgating, camping, and so much more. No electricity needed, the Gravity Grill is powered by a wood pellet gravity fed system that supplies continuous, accurate heat with no worries. Since there are no moving parts We guarantee this product will never fail.
Featured Components
C
ooktop – With 252 Sq. inches of cooking area, the cooktop is really the funnest part of the gravity grill. Who doesn't like breakfast off the griddle in the great outdoors!
Oven – Includes two 13"x11" grills for a total cooking area of 286 Sq. inches. With Oven temperatures ranging from 300 to 550 degrees F., cooking possibilities are truly limitless.
Firebox – 35k BTU output keeps you warm and cooks your food all at the same time.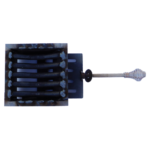 Deluxe Firepot – The downward flow of pellets is crucial to the ash content elimination and the continual dropping of new fuel. Two combustion areas create a highly efficient burn. A pull out rod allows for easy ash clean up.
Stainless Hopper – holds 12 lbs of pellets and will run for approximately 2 hours. Hopper extensions are available that provide another 3 hours of run time.
Damper Dial – Controls the temperature of the heater by adjusting the amount airflow. Reach the highest temperatures with the damper dial fully closed.
Specifications:
Model: WPGG1.5L Unit Dimensions: 39.5w x 13d x 75t in.
Unit Weight: 78 lbs
Unit Dims excl. Removable Stove Pipe: 39w x 13d x 24t in.
BTU Output: 35,000
Cooktop surface temps: Left side cooking surface temp range 450-650, Right side cooking surface temp range 300-550.
Oven Temp Range: 300-550
Oven grills size: two @ 13" x 11" = 286 sq in
Top cook surface dimension: 21" x 12" = 252 sq in
Total sq in of cooking surface: 538 sq in
Minimum clearance to combustables: 3ft